CTI Technology Will Find Your Cybersecurity Blindspots And Mitigate Your Major Risks
Are you sure your business is secure?
Depending on the current state of your digital defenses, improving your security may not be all that complicated or expensive. You can start by following these five simple tips…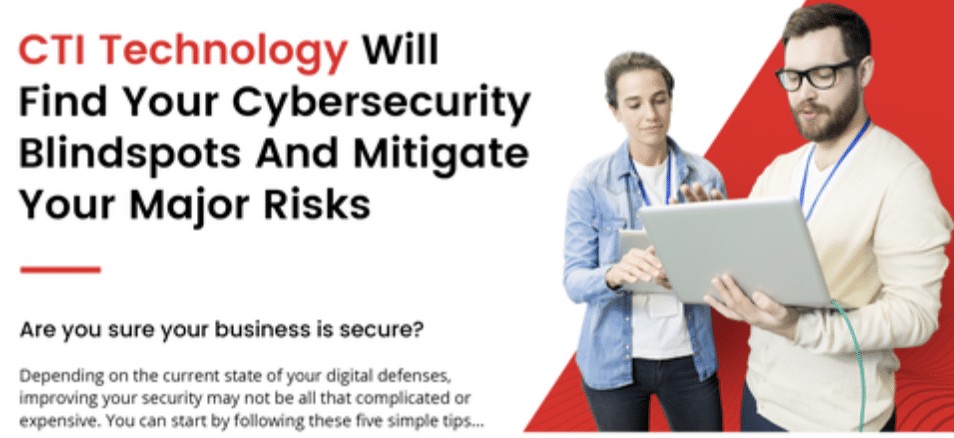 5 Tips To Enhance Your Cybersecurity Right Now
Multi-Factor Authentication
MFA enhances login security by requiring the user to utilize two methods to gain access.
Computer Updates
Keeping‌ ‌your‌ computers up‌ ‌to‌ ‌date‌ protects you against identified vulnerabilities.‌
Third-Party Spam Management
A reliable third-party spam filter provides protection against email-based threats like phishing.
Backups Tested and Reviewed
A comprehensive and regularly tested backup solution will defend you against ransomware and general data loss.
Employee Security Awareness Training
Security awareness training helps your employees learn to recognize and avoid scam emails and websites.
CTI Will Help Verify Your Cybersecurity Capabilities
Are you sure your business is secure? It's a dangerous assumption to make – don't you think you should find out before a cybercriminal finds out for you?
If you would like a FREE cybersecurity risk assessment to help you discover and address your vulnerabilities, get in touch with CTI Technology today.
We will examine your cybersecurity from end to end and produce a detailed report to help you mitigate your blindspots and develop confident security.
Download our complete guide here to protecting your Chicagoland business