Electrical Contractor In Chicago Connects With CTI For Local IT Services
Running a business takes good technology. In Chicago and the surrounding area, you need your business to run like clockwork, including IT. Your computers and the programs you use need to meet several important standards. First, your IT needs to enable your team with tools and resources. Second, your IT must provide a concierge experience for your customers. Lastly, it all needs to be secure enough to withstand the modern threat environment.
These standards must be met whether your business model is selling shoes or inspecting homes. That's why CTI Technology is dedicated to providing unique IT solutions for every industry and business type in the Chicago area. It's also why we were proud to recently receive an electrical contractor's business for local IT services.
Professional electrician services and electrical contractors have a particular set of needs for IT, and CTI Technology is ready to provide.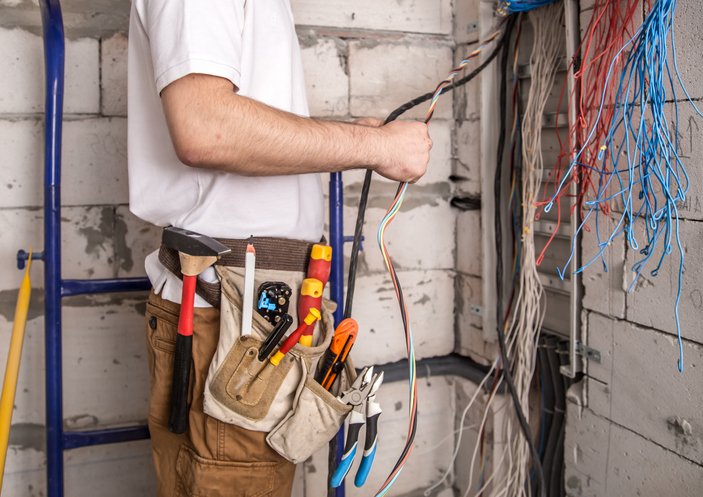 Local IT Services for Electrical Contractors and Other Trades
What does local IT have to offer electrical contractors and other trades businesses in Chicagoland? Contractors, inspectors, repair teams, and installation specialists need IT support just like any other type of business. The difference is that trades usually need IT that is streamlined for use parallel with real-world activities like managing inspections and coordinating fleets.
Technology that Does the Job
Whatever you do, you need software that does it well. You need a mobile platform for inspections and calculating job quotes. You need an internal system for managing inventory, projects, and services. Your company may need fleet management software to coordinate and track your vehicles working with clients on-site and a client-facing website with everything your clients need to onboard with the company and then manage their hired services. If your IT can't do all this – with great cybersecurity – then you'll find yourself looking for an alternative.
Getting Ahead with Better Tools and Utilization
A team with better tools than rivals of equal skill will perform better. This is even more true of software than it is of hand tools. From technology comes great efficiency. If your dashboards are just a little more practical, your servers just a little more responsive, you can get that edge on the market for local services. In Chicagoland, competition is steep, and demand is high for every type of local service. From electrical contractors to tax lawyers, better technology and better utilization of the technology you have can help you get ahead.
Workplace, Remote, and Work Site Support
Trades companies have been "Hybrid" for far longer than most other businesses, if by "hybrid" you mean people working both in the office and out of the office at all times. Workplace and worksite support are essential. Every Chicago area contractor needs an IT team that can make sure their technology works not just at headquarters, but in the trucks, on the worksites, and now, for employees doing their office work remotely from home.
Fleet Management Technology
Finally, trades businesses often need fleet management technology. Fleet management involves vehicle tracking, coordinating with your drivers en-route, updating routes during the day, tracking fuel costs, and keeping up with routine tasks of maintaining functional fleet vehicles. Great fleet technology can streamline the fleet management process, improving the experience of drivers, clients, and the fleet manager at the same time.
What are the Benefits of CTI's Chicagoland Local IT Services?
Why should Chicagoland trades like our electrical contractor client hire a local IT service like CTI Technology? Good question. There are hundreds of national and international remote IT services to choose from. If you wanted a team to pick up the help desk phone and log remotely into your virtual servers, you could get that anywhere. Why bother with a local IT service headquartered just a few miles down the road?
The reasons why are things that any trades business is sure to recognize as valuable.
On-Site Installation and Setup
First and foremost, we're available for on-site installation and setup. This is the most significant difference between remote IT services and a local IT service: Hands-on support. It's one thing to have an IT services provider who will tell you how to set up a new computer over the phone. It's quite another to have an expert team who could rebuild your office network and endpoints in a few yours, set you up in a new location, or install a new workstation with ease.
If you're setting up a new system, we've got you covered. Need to overhaul or replace essential hardware? Our team is there when you need us. And if you start to smell that sharp, hot smell of burning circuit boards, we can send an emergency technician before your server catches on fire.
Understanding the Unique Needs of a Chicago Area Business
Living, working, and running a business in the greater Chicago area gives us a unique perspective to understand the needs of your business. We know demand is high. We know where supplies and supply lines are short right now. We know you need more serious business continuity in the wintertime. And if you explain a specific bottleneck, we'll work with you to resolve you to find the optimum technology-based solution.
Relationship With Your ISP and Other Local Providers
Local IT professionals will also have an existing relationship with your technology services. We know the power companies, the ISPs (internet service providers), and the satellite services in the area. This is because we use the same services and have many clients who do, as well. No matter which service providers you work with, a local IT team will already know who to call and how to resolve common problems regarding power, internet, and other technology services.
Managed Hardware and Software Support
A local IT team can manage your hardware and your software. Not just for setup and installation, but also maintenance, upgrades, and adding new endpoints to your system. Why settle for a remote IT support team who can't be there in person when there is Chicagoland IT around the corner and available for on-call repairs and hands-on maintenance?
The Next Step in Your Chicago Business IT
Where will your business technology take you? If you're looking for Managed IT or something more, it's important to plan for your IT future. What is the next step to improving your network and technology solutions?
Cloud Migration
Migrate to the cloud, integrate cloud platforms into your stack, and become a more flexible cloud-based company. Going to the cloud simply means online and accessible resources – plus a few new cybersecurity and network management challenges.
Software and Stack Upgrades
Is your software old or outdated? Your IT team can help you choose new software, run your current stack through upgrades, or get you onto the latest version of your industry programs.
Hybrid Workplace Integration
The hybrid workplace is here to stay, and it's time to replace stop-gap measures with permanent technology design improvements. From hybrid-meeting-ready conference rooms to secured cloud platforms for remote work, your technology can take the next step as a cutting-edge hybrid employer.
The Latest Cybersecurity
Every six months, the latest cybersecurity methods and security patches are updated to meet the latest hacker techniques. Get your servers and devices secured with cutting-edge cybersecurity infrastructure, monitoring to catch unauthorized network activity, and the latest security patches for all your software. Give your company and your clients the data security they deserve.
With the many values offered by dedicated local IT services, it should come as no surprise that a Chicago-based electrical contractor decided to seek out CTI for their Chicagoland local IT needs. Contact us today to handle your local IT with the highly skilled IT professionals of CTI Technology.
Why Is CTI Technology The Best Choice For IT Services In The Chicagoland Region?

"Great pricing, even better service. Highly recommended!"
Great pricing, even better service. Highly recommended!"
Guido Arquilla


"Great IT company for our business! Highly recommended."
"Great IT company for our business! Highly recommended."
Brian Coli


"CTI is a great company and I would not trust my IT services to anyone else."
CTI is a great company and I would not trust my IT services to anyone else.
Jenny Wagner