Firewall And Network Protection In Chicago
A firewall is a network security tool that analyzes incoming and outgoing connections and automatically allows or blocks specific traffic based on a predefined set of security rules. After evaluating each packet, a firewall scores it based on algorithms and either blocks or allows the packet past the firewall. Firewall and network protection are a critical line of defense for your company's network and, more often, they are the first line of defense for your on-premise servers. CTI Technology offers robust firewall and network protection solutions for businesses throughout Chicago. Our experienced cybersecurity professionals will ensure that all your firewalls are upgraded periodically with the latest antivirus signatures.
Why Your Enterprise Needs Firewall and Network Protection
Your business network is only as secure as its least secured device, and that's where network security systems come in. As long as you and your employees use the internet, it's wise to have firewall protection in place. Cyber threats are widespread and rapidly evolving, so it's important to use available defenses to protect your network and all the personal information stored on your computers against cybercrimes.
By allowing CTI Technology's cyber security professionals to set up your firewall and network protection solution, your business is protected from the following threats:
Open Access: Without an effective firewall and network protection system, you're accepting every connection to your company's network from anyone. You won't have any means to detect incoming threats, leaving your devices vulnerable to malicious actors.
Lost or Compromised Data: Lacking a firewall can leave your devices exposed, allowing bad actors to gain control over your network or computer. Cybercriminals could even delete your data or use it to commit financial fraud or identity theft.
Network Crashes: Attackers could shut down your network and demand a ransom to get it running again. A firewall is an essential security technology that protects your business from malware attacks. We often combine different types of firewalls that work together to provide a solid umbrella of protection.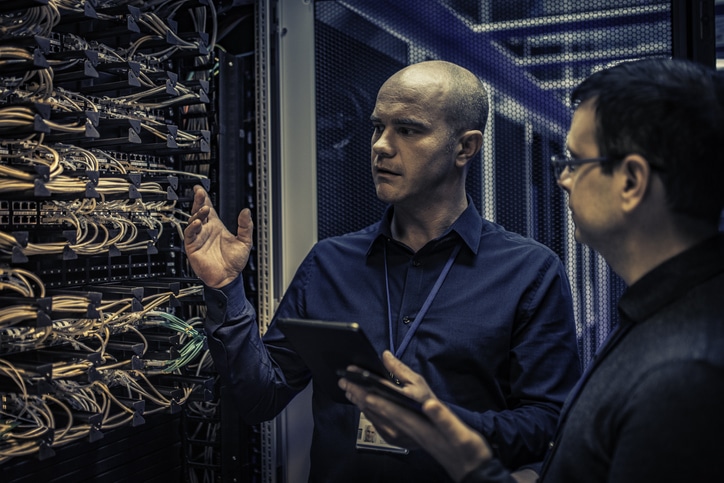 How Firewall and Network Protection Works
A firewall is designed to protect your network by filtering traffic and blocking external actors from gaining unauthorized access to private data on your computer systems. CTI Technology's firewall solution not only blocks unwanted traffic but also blocks malicious software from infecting your computer.
Besides, we can configure your firewall to provide different levels of protection based on your unique needs. Our experienced IT engineers will examine your IT framework to determine the level of protection that will keep your network and the data stored on your computers safe and secure.
Customized Firewall and Network Protection for Chicagoland Businesses
CTI Technology provides a firewalled system that analyzes network traffic based on certain rules. Your firewall will only welcome incoming connections we've configured it to accept and block all other data packets that don't meet our pre-established security rules. Our firewall system works like a traffic guard at your network's entry point or port. It will only allow trusted sources or IP addresses.
We understand that every business network is different, and the same applies to network firewall security configuration. Our expert IT consultants recognize that there is not one single firewall solution for the optimal security setup of every company. We will work with your team to craft a practical and achievable strategy configured to your business's unique needs, application control protocols, and operating systems.
The intention behind a network firewall is to filter internet transmissions so that only traffic that is considered secure is allowed into your organization. Such decisions are based on pre-set policies and rules. Like many technology solutions, firewalls have evolved massively over time and are more sophisticated today in terms of deployment flexibility and efficacy.
For example, our IT specialists can deploy firewall protection in completely virtual environments to safeguard data transferred to and from the cloud or remote branches. We can also integrate your firewall with threat defense and intelligence to protect your network from a broad range of threats, including advanced persistent threats (APTs), botnets, command and control servers, and zero-day threats.
Additionally, we use firewall software monitors to restrict and regulate network connections and communications on the perimeter of private and public networks. We will work with your team to configure your firewall to partition data or traffic flows based on the categorization of risks. As a result, your corporate firewall will restrict traffic from potentially hostile connections on the internet and improve your overall cyber security posture.
Types of Network Security Firewalls
CTI Technology implements network firewall security in multiple forms, combining software and hardware. These special systems are designed to restrict incoming and outgoing network traffic in precisely coordinated criteria, blocking unauthorized users from your secure network. The common types of firewall we deploy include:
Proxy Firewall
A proxy firewall creates a secure gateway from one network to the next for specified applications. This type of firewall may also provide extra functionalities such as cyber security and content caching by blocking direct connections from external networks.
Stateful Inspection Firewall
A stateful inspection firewall is typically the traditional firewall. It blocks or allows network traffic based on its port, protocol, and state. A stateful inspection firewall also monitors all activity from when a connection is opened to when it's closed. Typically, it makes filtering decisions based on your administrator-defined rules and context.
Next-generation Firewall (NGFW)
Next-generation firewalls have evolved beyond stateful inspection and packet filtering. They can mitigate modern-day threats such as sophisticated malware and application-layer attacks. An NGFW also includes integrated intrusion prevention as well as application awareness and control to figure out and block risky apps.
Unified Threat Management (UTM) Firewall
UTM devices combine the functions of a stateful inspection firewall with additional security layers such as antivirus and intrusion prevention solutions. It may also include cloud management and extra cybersecurity services.
Threat-focused NGFW
With a threat-focused firewall, you get all the capabilities of a regular NGFW firewall plus advanced threat detection and mitigation solutions. By setting up a threat-focused NGFW firewall, you will be able to identify assets that are most at risk and have full context awareness.
Get Expert Managed Firewall and Network Protection Solutions in Chicago!
CTI Technology offers a full range of firewall and network protection services that cater to the needs of small businesses and enterprises alike. With completely customized firewall solutions, our IT specialists will provide an all-in-one security plan that keeps your organization's computers, network, and data secure. Some benefits of our firewall and network protection services include:
Complete evaluation of your current firewall setup with actionable recommendations.
Mitigating security issues with active response security management.
Continuous real-time event correlation and monitoring of your firewall activities.
Managing firewall configurations at every angle to ensure excellent optimization.
Setting security rules to automatically respond when wrong firewall changes are detected.
Ensuring compliance with the most current industry best practices, policies, and regulations.
CTI Technology is a trusted managed IT service provider in Chicagoland. When you trust us with your firewall and network protection management, you will realize a significant improvement in your security, efficiency, and productivity. With flat-rate, transparent fees, you'll never be plagued by unexpected costs. Our IT solutions include firewall and network protection, desktop support, server maintenance, user setup, software licensing, Office 365 integration, VOIP services, and more. We proudly serve the Chicagoland region, Virginia, and Maryland. Contact us today to schedule a consultation!
Why Is CTI Technology The Best Choice For IT Services In The Chicagoland Region?

"Great pricing, even better service. Highly recommended!"
Great pricing, even better service. Highly recommended!"
Guido Arquilla


"Great IT company for our business! Highly recommended."
"Great IT company for our business! Highly recommended."
Brian Coli


"CTI is a great company and I would not trust my IT services to anyone else."
CTI is a great company and I would not trust my IT services to anyone else.
Jenny Wagner